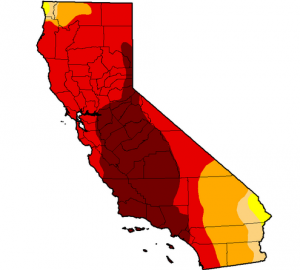 The U.S. Drought Monitor released updated ratings for California's drought today, showing improvements to the state's classifications of "extreme" and "exceptional drought" but the state's classification for "severe drought" remains steady at 94%.
The U.S. Drought Monitor also reported that reservoirs statewide remain well below normal and the state's snowpack also is far below normal because recent storms have delivered more rain than snow.
On Dec. 9, the U.S. Drought monitor data showed 80% of the state in extreme drought and 55% in exceptional drought. New data shows that 78% of the state is extreme drought and 32% in exceptional drought – a difference of -2% and -23%, respectively.
According to the U.S. Drought Monitor, this week's storms in central and northern California have yielded between 4 to 12 inches of rain and conditions in the state's major central and northern California reservoirs have also improved by 6 to 10 percentage points, compared to Nov. 28 values.