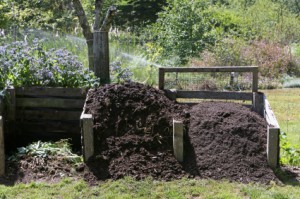 CALTRANS Demonstration Projects & Workshops
William Baker serves as project manager for this interagency agreement developed to conduct demonstration projects, and additional Caltrans workshops to be held throughout the State.  The project is a collaboration of the California Integrated Waste Management Board, the University of California, the California Department of Transportation (Caltrans), the compost industry, and local governments.
This contract will design and initiate field demonstration projects, in addition to classroom workshops to educate Caltrans staff and introduce local government official to the new compost-based specifications adopted by Caltrans.  This interagency agreement should increase the use of organic materials by Caltrans and local government through education/outreach efforts related to compost quality, testing, certification, classification, specification, and application.  For the purposes of the project, compost includes compost and mulch.
The California Integrated Waste Management Board (CIWMB) is focused on the sustainable and cost-effective use of millions of tons of organic materials. Organic materials comprise 30 percent of what is still disposed in landfills, and these materials are a major target of the CIWMB's Green Procurement Action Plan (GPAP). The GPAP is designed to stimulate the markets for priority materials that are diverted from landfilling.

In order to stimulate the market for organic materials, the CIWMB is currently sponsoring a project to increase Caltrans use of compost and mulch. Participants include Caltrans, University of California Riverside Extension, Association of Compost Producers (ACP), United States Composting Council (USCC), erosion control professionals, and Soil Control Laboratories.
Caltrans uses compost statewide in design and maintenance projects, primarily in hydroseeding for erosion control. In a recent document titled "Compost Use on State Highway Applications," the Composting Council Research and Education Foundation (CCREF) and United States Composting Council (USCC) estimated that Caltrans  has a potential market for compost of at least 3,350,000 cubic yards and as much as…