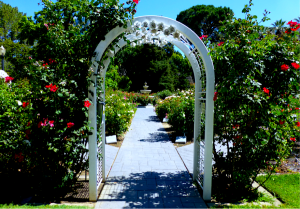 Capitol Park, Sacramento, CA
William Baker was proud to be project manager for assessment and training at Capitol Park in Sacramento.  The project was funded by The California Department of General Services (DGS) and the California Integrated Waste Management Board.  Capitol Park is proud to be the oldest arboretum west of the Mississippi! There are gardens in the surrounding Capitol Park, as well as trees from around the world!
This required a great deal of project planning. The purpose of this project was (1) to create a model program at Capitol Park to illustrate that resource efficient landscaping practices are cost effective and environmentally beneficial; (2) to provide DGS staff with training to incorporate resource-efficient landscaping practices at Capitol Park; (3) to improve waste management at Capitol Park to prevent mixing of landscape trimmings, recyclables, and trash; (4) to manage the community of historic trees; and (5) to write a training manual to provide guidelines for classes.
Why Visit Capitol Park?
Civil War Memorial Grove planted in 1897 with saplings from famous Civil War battlefields.
A life-sized statue of Father Junípero Serra, a Roman Catholic missionary sent by Spain to help colonize California. At its base is a map of California's 21 missions, from San Diego to Sonoma.
The California Vietnam Veterans Memorial, with bronze statues of service men and women depicting military life in Vietnam and featuring engravings of names of Californians killed or missing in action.
The California Veterans Memorial, a granite obelisk honoring California Veterans from the Mexican-American War, Civil War, Spanish-American War, World War I, World War II, the Korean War, the Vietnam War and the Persian Gulf War.
Home of the California Legislature since 1869, the State Capitol underwent a major renovation that restored much of the building's original look.
Visitors can tour the restored historic offices of the Secretary of State, Treasurer, and Governor of the State of California.